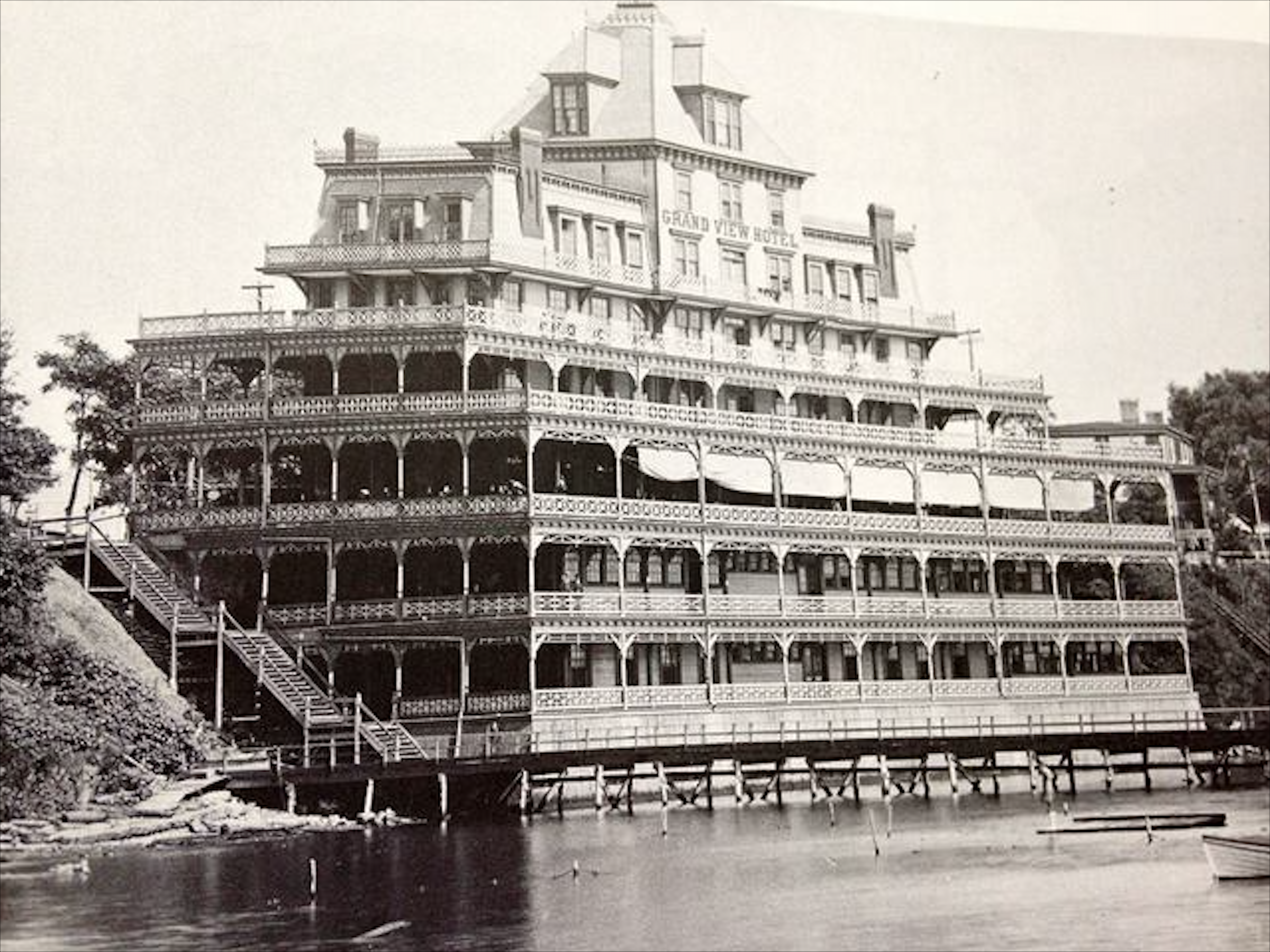 You May Have Heard of Red Hook, But Did You Know There Was a Yellow Hook?
Located in the southernmost tip of Brooklyn, across Staten Island and shadowed by the Verrazano Bridge, Bay Ridge is a quaint, "family-friendly" neighborhood that rarely makes waves in the headlines. While today, Bay Ridge is filled with quaint treelined blocks, brownstones and a lively main street pocketed with mom and pop shops reminiscent of Astoria (just less hipster-y), it's history was anything but safe. Read on to find out about the wild days of Bay Ridge.
Originally inhabited by the Nyack Native Americans, Bay Ridge was formerly a rich, luscious terrain of marshland. At its height, there were over 100 different bodies of water that once pocketed the land. When the Dutch first landed in 1652 (via The Dutch West India Company, obvi) they founded the neighborhoods, Bushwick, Brooklyn, Flatbush, Flatlands, and New Utrecht. The area we know as Bay Ridge was named Yellow Hook due to the yellow sand and clay that made up the land.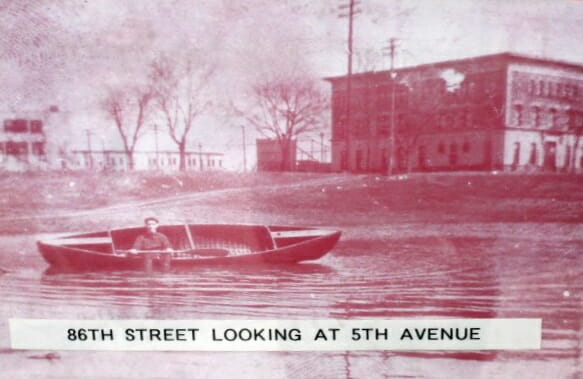 For several years, the land was primarily inhabited by the Dutch, with a smattering of enterprising sailors and merchants from Germany, England, France, and Scandinavia as well as a large number of black slaves brought from Africa. Due to its waterfront access, Bay Ridge was a land ripe for trade, and in 1674, the British captured the land from the Dutch and called it, New York.
Here's Some Insane George Washington History
On August 26th, 1776, over 34,000 British troops snuck up on George Washington and his troops. Marching through Bay Ridge (near the Verrazano Bridge), Owl's Head Park and up to 3rd Ave near Greenwood Cemetary, they fired on the American troops. The battle came to be known as the Battle of Brooklyn and was one of the largest in the Revolutionary War.
During the dead of night of August 29th, Washington led his troops into what would become known as one of the greatest retreats in American history, taking his 9,000 troops across the East River to Manhattan, covered by the night and thick fog. He single-handedly saved his troops and allowed them to later win the Revolutionary War.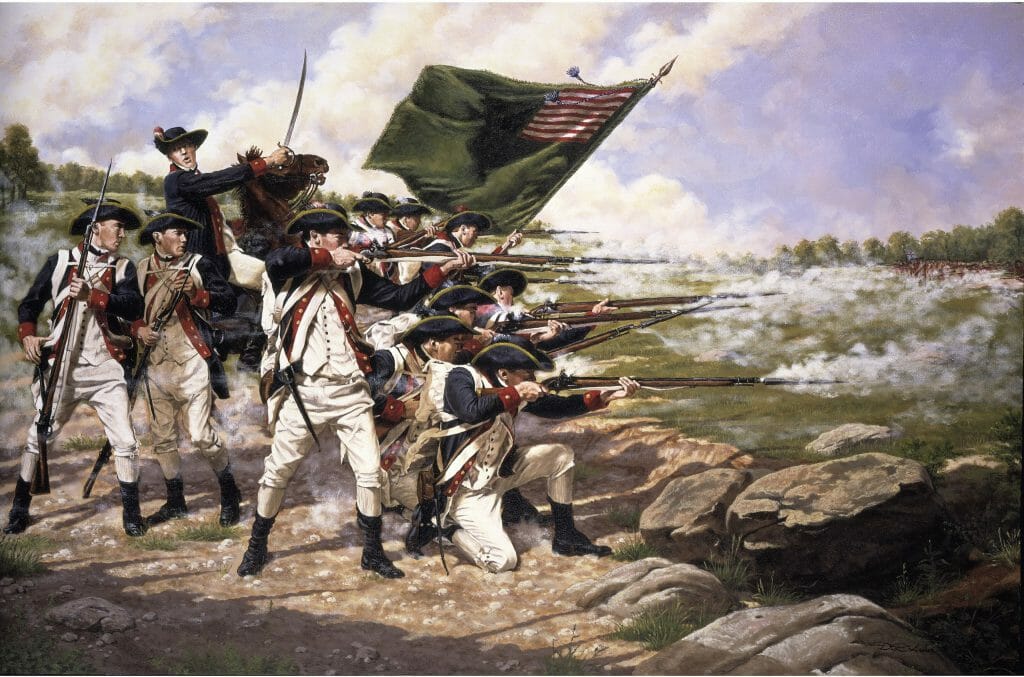 But Wait, There's More – Yellow Fever
Between 1848-1849 a tirade of Yellow Fever broke out aboard a ship that spread across the waterfront neighborhood. Infected sheets and clothes were tossed into the water, which then polluted the waters and spread the disease to residents of Yellow Hook. The mosquito-borne disease thought to be spread through water led to over 6,000 acres of ponds being drained in Bay Ridge.
On a side note: New Orleans, where a larger Yellow Fever outbreak had occurred years earlier had "made efforts to purify the atmosphere by firing 600 discharges from cannons. Alas, that only led to more deaths as the sick went into convulsions". Gotta love the logic of the past where the answer to solving a disease was to shoot bullets into the sky.
By 1905, Yellow Fever was considered eliminated through the advent of modern medicine and elimination of mosquitos but, the name of Yellow Hook still held nasty memories of jaundiced children and convulsing bodies, so the locals renamed Yellow Hook as Bay Ridge for its gorgeous ridge and the beautiful views of the Bay.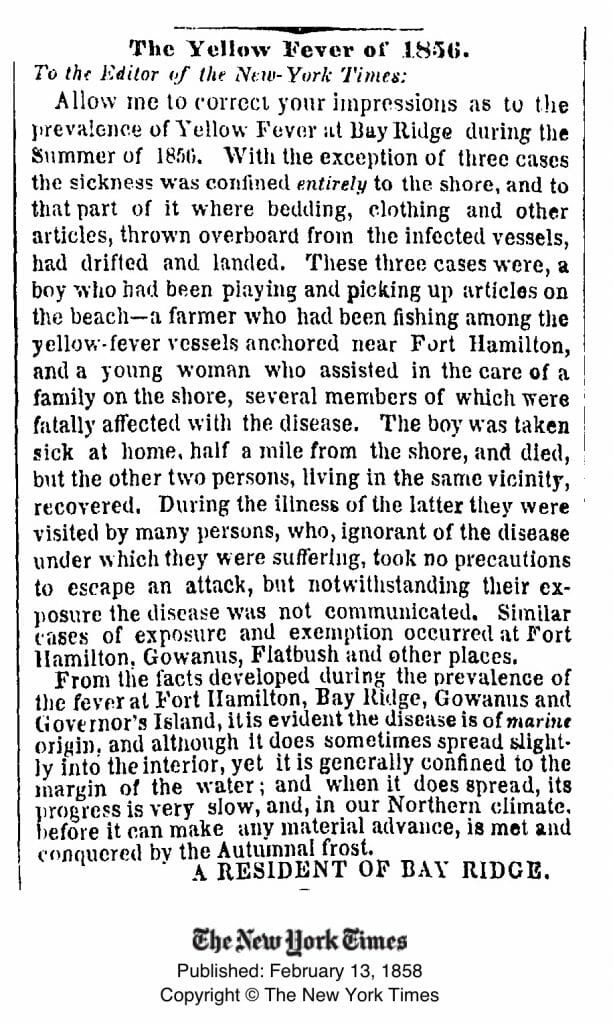 Insanely Wealthy Bay Ridge
The re-brand to "Bay Ridge" was a rock-solid publicity move and the rich soon swooped in. Bay Ridge became a huge resort town for the wealthy, and glamorous hotels like the Grand View were built along the waterfront. Eventually, the mansions were torn down and turned into apartment complexes as Coney Island grew into popularity, drawing visitors and residents away.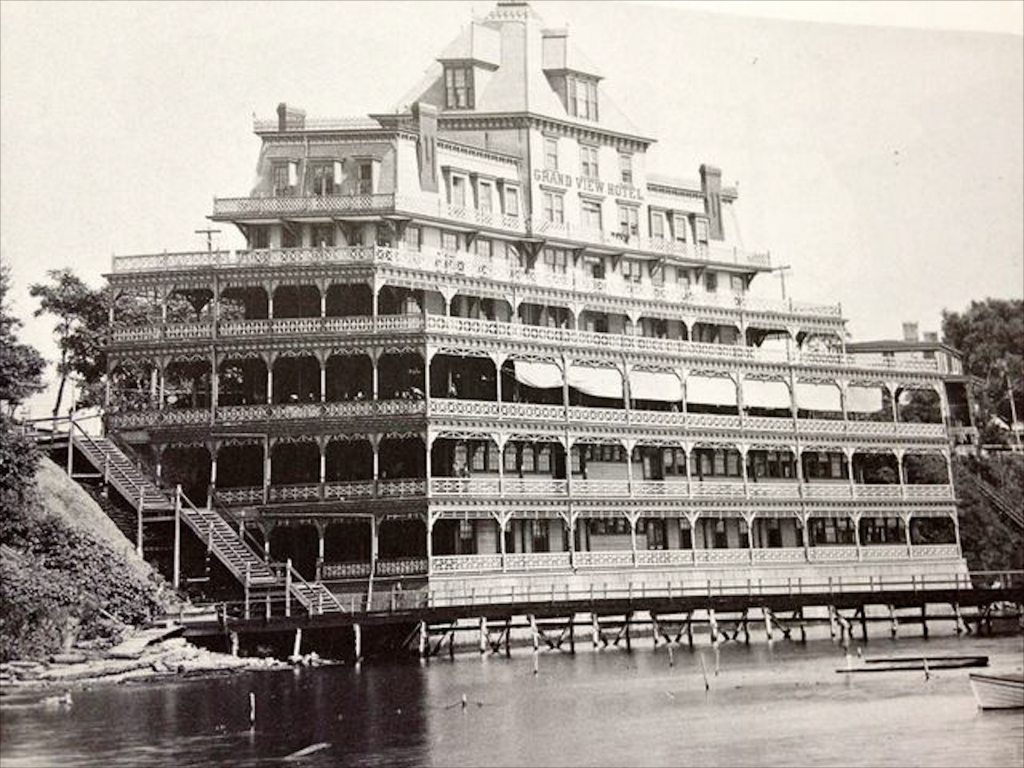 Bay Ridge Today
Today, Bay Ridge is a family neighborhood with a huge middle eastern, Irish, Italian and Norwegian, Dutch population. Fifth Avenue is a repository of quaint, mom and pop shops including one of the oldest bars in Brooklyn (Three Jolly Pigeons), oldest ice cream parlors (Anopoli Ice Cream Parlor) and more. Bay Ridge is worth a neighborhood visit for sure.