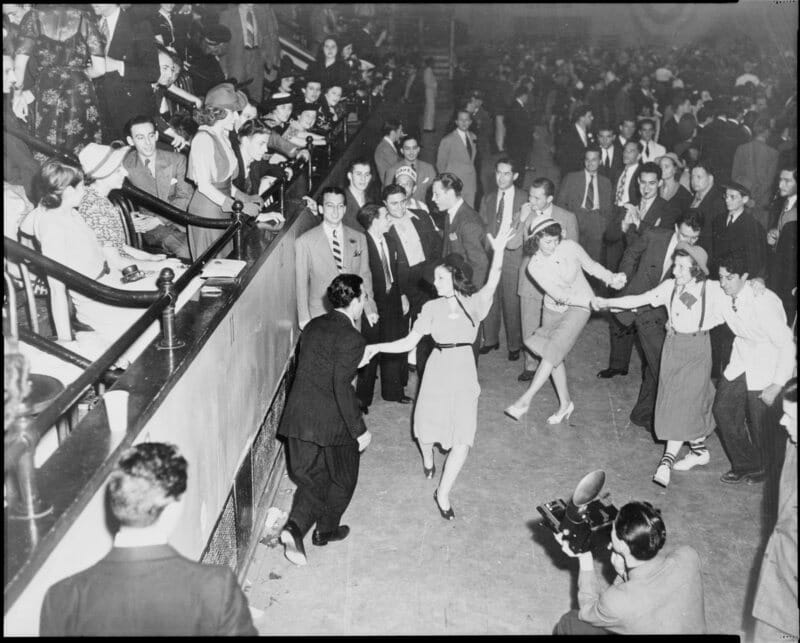 There's something about the notion of being "alone in a crowd" that rings particularly true for many people who wind up in this writhing metropolis. If you were a lonely man in New York in the first half of the 20th century, you could combat this urban loneliness by going to one of a number of "taxi-dance ballrooms."
These dance halls were designed for "Unattached men who yearn for the voice and smell of the female species"
Clustered in and around Times Square, these dance halls were designed specifically for "unattached men who yearn for the voice and smell of the female species," offering dances with girls for hire. In December 1938, a reporter with the New Yorker visited several taxi-dance ballrooms (so-called because of the girls, like taxis, getting paid by the minute). He first visited Honeymoon Lane on the 2nd floor of 711 7th Ave. He received one free dance ticket from the sidewalk barker outside, then ascended the stairs and was cleared by the bouncer.
Inside, he found "eighteen or twenty girls in evening gowns, lined up behind a low rail opposite the entrance," who quickly cried out to him in desperation to be his dance partner. He chose one for his first dance, a lithe girl named Jean who spent much of the time moaning and begging him to buy more dance tickets.
She told him she usually worked from 9PM until 4AM, at which point she'd go out for breakfast before going to bed. She took home half of whatever money she collected in ticket sales, collecting $40-70 per week on average. It wasn't easy work.
That particular night, the reporter counted 27 girls and just 9 men in the room. Girls like Jean could easily go home empty-handed on a luckless night. Dance halls like Honeymoon Lane were regularly accused of engaging in prostitution, and were raided by the police over vice complaints. Taxi-dance halls, once a seedy bastion against loneliness in the big city, were gone from the streetscape by the 1960s.