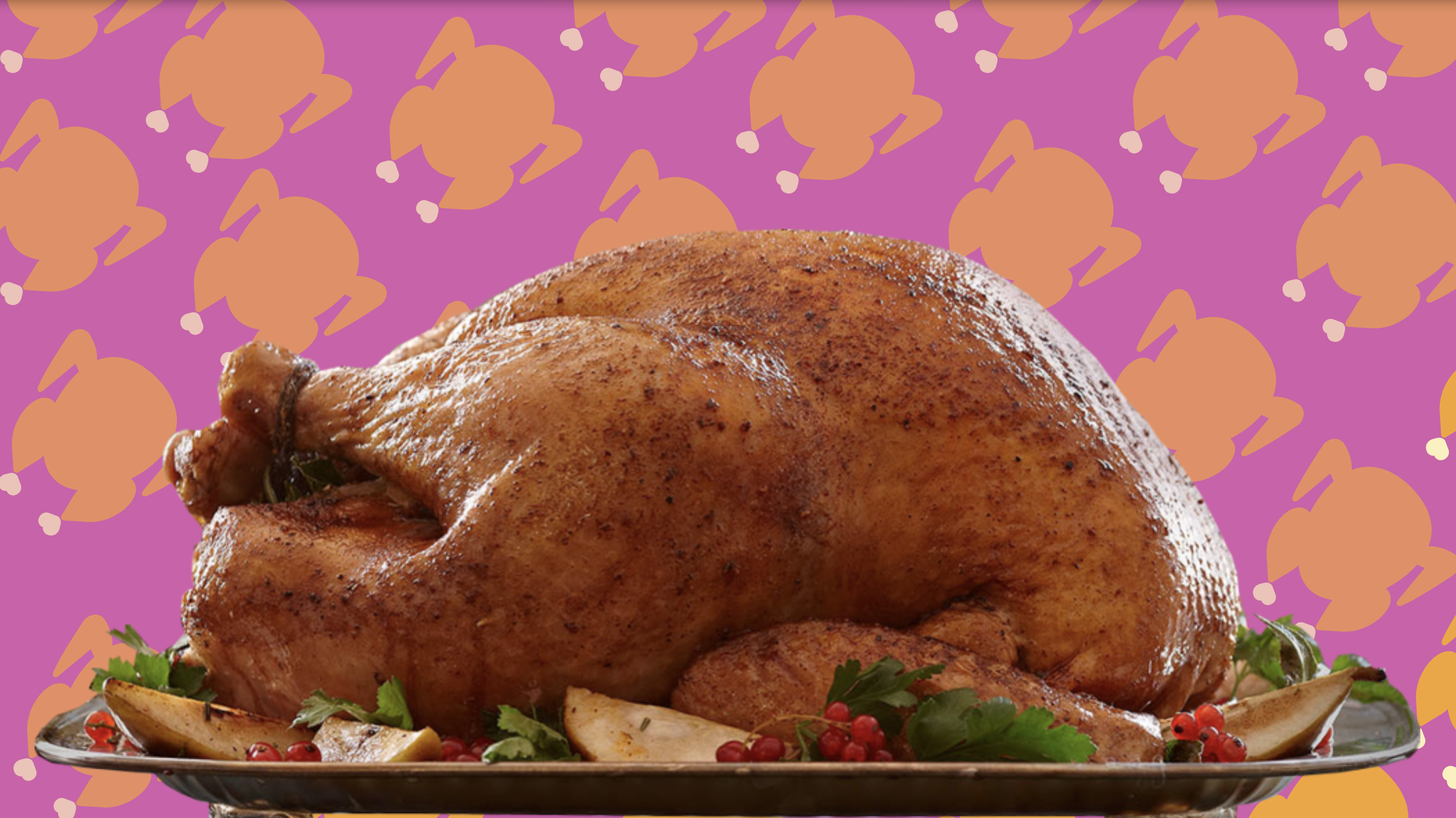 It's not hard to throw the best Friendsgiving ever, although it's certainly a different vibe than your average rager. I like to gather a few friends to start cooking around noon, and I delegate sides and desserts to the late-arriving guests. I enforce a strict dress code of hideous holiday sweaters, for maximum coziness.
New York City is filled with Thanksgiving orphans, hence the growing popularity of Friendsgiving. It's just like regular Thanksgiving – the same carb-fueled exercise in togetherness, except in this case we use piles of food and gallons of alcohol to embrace our fellow party people rather than to avoid our weird uncles who are super into Fox News.
For food, stick to the classics – turkey, stuffing, sweet potatoes, Parker House rolls, pumpkin pie, etc. We only get to eat this food once a year so there's no reason get all crazy with racks of lamb and sous vide goose and Ras El-Hanout etc.
Cook Thanksgiving food and give the people what they want!
The other thing you should do is drink wine all day, and for that, you will need the right wine. Something light and fruity, low in alcohol and bright with acidity. Something to lead you and your guests from the first flash of a knife through onion, to a post-prandial state of metabolic bliss, i.e. sprawled on the floor in a food/wine coma.
Friends, such a wine exists, and my extensive experience as a Friendsgiving drinker and cook has led me to the conclusion that there is literally no better thing to sip a late-November day away. Here, take my hand, and let me whisper to you of Beaujolais Nouveau.
Beaujolais Nouveau is the most famous and celebrated Vin de Primeur, a term referring to any French wine meant to be bottled and sold during the same year in which the grapes are harvested. Winemakers in Beaujolais bottled Vin de Primeur for local consumption for centuries, but in the 1940s decided to release it to Parisian markets for a much-needed post-WWII economic bump. Due to a confluence of publicity stunts, savvy marketing, and the general tastiness of the wine, it caught on in the bistros of the French capital, and then the rest of the world.
Starting in 1951, the wine has been released on the third Thursday of November, which became internationally known as Beaujolais Nouveau Day and just so happens to correspond nicely with the Thanksgiving shopping plans of Americans.
This is quite a happy coincidence because Beaujolais Nouveau just so happens to be the fucking perfect Thanksgiving Wine.
Or Friendsgiving Wine, as the case may be. Made from the Gamay grape, the wine is bottled mere months after the grapes come down off the vine. This extremely short fermentation and aging period keep the wine fresh and bright, and the natural qualities of Gamay ensure a tangy and refreshing drop
In France, these wines usually accompany the fat-laden comfort food served in cafes and corner bistros, so it's a natural leap to the creaking holiday tables of Americans. In fact, go ahead and skip the cranberry sauce this year – the red fruit flavors and blazing acidity of Beaujolais Nouveau are the perfect stand-ins. The soft fruitiness will draw out the natural sweetness of yams, lift and enhance the earthiness of green beans, and cut through the salt and cream and butter and gravy and, oh man am I hungry.
These wines meld with dark meat turkey in ways that are almost sexual, a straight-up Thanksgasm.
My first experience with this beguiling wine came from a friend's parents annual Beaujolais Nouveau Party, now a fading tradition meant to celebrate the release of the latest vintage. Naturally, we procured a few bottles, and I now happily associate its fruity flavor with listening to Massive Attack in my friend's black-lit bedroom.
In retrospect, those wines were…not great. Shot through with the uncanny essence of banana, they were a mass-produced version of what is supposed to be a relatively rustic and untouched product. Still, they were fun, mellow, and (important to my 17-year old self) extremely easy-drinking, and I look back on those parties through the golden-hued lens of holiday nostalgia and teenage wine-buzz.
Years later, I was lucky enough to taste a real Beaujolais Nouveau, one made from the decades-old Gamay vines of Domaine des Terres Dorees, under the watchful eye of Beaujolais legend Jean-Paul Brun. I consider this the gold standard of the style – vibrant, vivacious, high-toned, and flamboyantly fruity, but here and there peppered with exotic spice and clear-cut mineral.
If you can find the 2018 Jean-Paul Brun Nouveau (and you should be able to, its brought into the states by a New York-based importer), by all means, make it your Friendsgiving tipple. Pierre Chermette and Domaine Rochette are other great producers, and at about $14 per bottle, are comparably priced with the Jean-Paul Brun. Avoid the big producers like Georges DuBoeuf, unless you want the aforementioned Banana Bomb, and for the love of God buy from a trusted source. Try to lay in at least one bottle per Friendsgiving guest, and serve it slightly chilled, as the French do.
And please have a happy and safe Friendsgiving.
I hope it's heart-warming as hell.