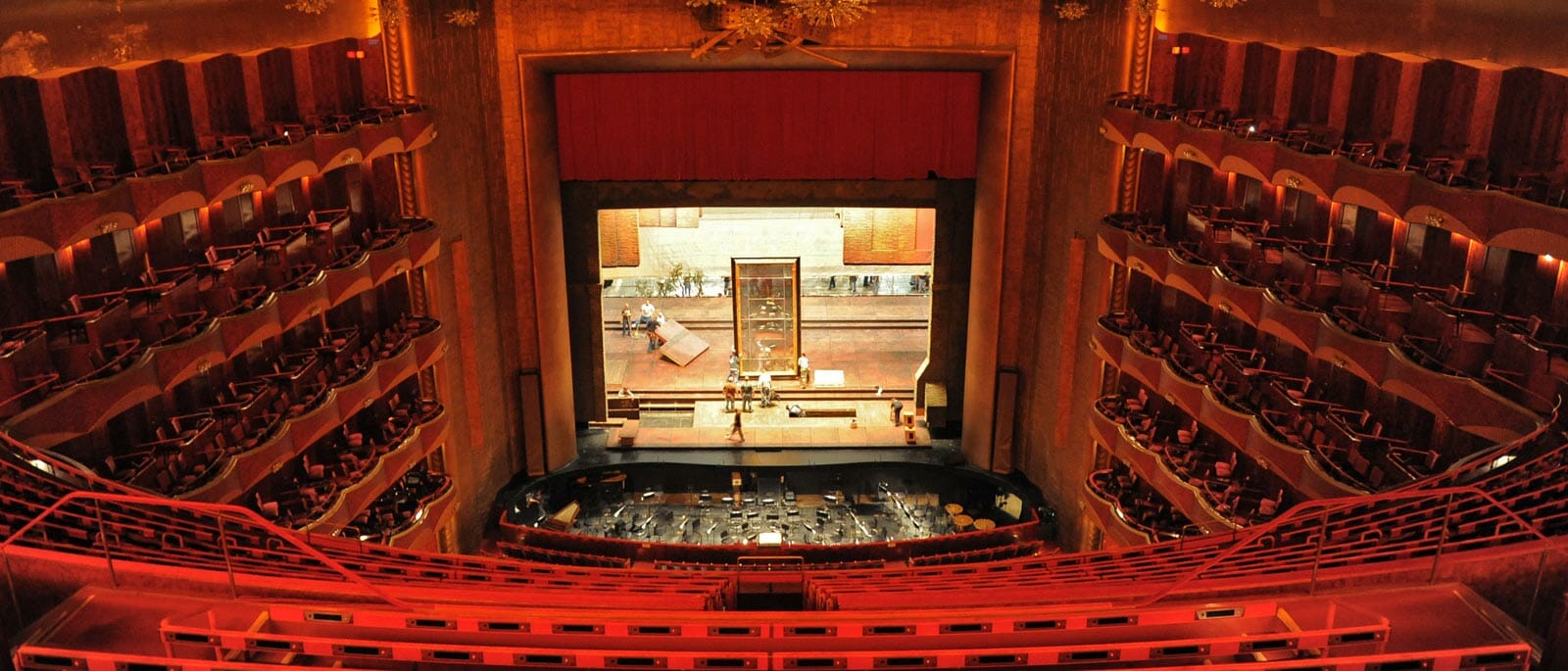 What's the first word you think of when I say opera?
If it's not OLD, it's probably EXPENSIVE.
If you stumbled upon my Instagram profile, you might think I'm a trust fund baby. Most of my posts are of chandeliers, ticket stubs, and various Opera programs. If I'm not at a bar, I'm at the opera.
You don't need a #thicc wallet to get into the grand tier, I promise. There are affordable ways to reach America's largest opera house. With close to 30 different operas put on each season, there's always a chance to see something for cheap!
The Options
Fridays under 40
Cost point: Starting from $60
If you're under the age of 40, the Met welcomes you. Every Friday performance comes with a deep discount for youthful opera fans. For sixty bucks, you can grab seats in Orchestra or Grand Tier. You can purchase tickets up to three months in advance! Occasionally, a Friday will come with a pre-performance party. Tickets for those start at $80 dollars BUT come with complimentary drinks, and access to cheese!
Student Tickets
Cost point: $37.50
If you're blessed enough to be a full-time student, discounted tickets are available up to a month in advance. With this special deal, you can bring yourself and three of your friends. Do keep in mind, your student ID from 2011 won't work, they validate transcripts each semester!
Family Circle
Cost point: Starting from $30
Located at the top of the house, some opera fans say that these seats have the best sound. Great sound, but a terrible view, so make sure to bring your opera glasses. If you don't own any, you can rent some from the house for a deposit of twenty bucks. While this isn't my favorite seat in the house, you'll never run shy of friendly opera geeks willing to chat during intermission.
Rush Tickets
Cost point: $25
Perfect for last-minute planners, the Met Opera releases rush tickets for both their evening and matinee performances. Tickets go on sale for performances Monday through Friday at noon, matinees four hours before curtain, and Saturday evenings at 2 pm. For as little as twenty bucks you can nab orchestra seats, sometimes as close as Row B. That's close enough to see an occasional spray of spit.
Standing tickets
Cost point: Starting from $20
If you don't mind working out your quads for 2- 3 hours, standing room is usually available for every performance at the Met. You can purchase tickets the same day starting at 10 AM for either Orchestra or Family Circle. While again, the sound is better in Family Circle– the view from Orchestra will be a lot better.
Score Desk
Cost point: Starting from $8
Located within Family Circle is a well-kept secret, Score desks. They're the cheapest way to get yourself in house. Leave your opera glasses at home, because these seats offer either an extremely limited view of the stage or none at all.

I wouldn't suggest these seats for the first time or even new opera-goers. Score Desk is perfect for operas you know by heart, an opera you've seen already, or a production you hate but has great singers. The seats come with a desk and reading light which can be used to follow the score along — or write a lengthy journal entry. Whichever you prefer.
The Young Associates Program
Cost point: Starting from $600
When you start balling, becoming a friend of the Met may interest you. Riddled with a bunch of free events throughout the year, $600 bucks buys you lectures, preview parties, and your weight in free Prosecco. Certainly not the cheapest option, but if you've caught the opera bug, complimentary tickets and backstage tours could be cool.