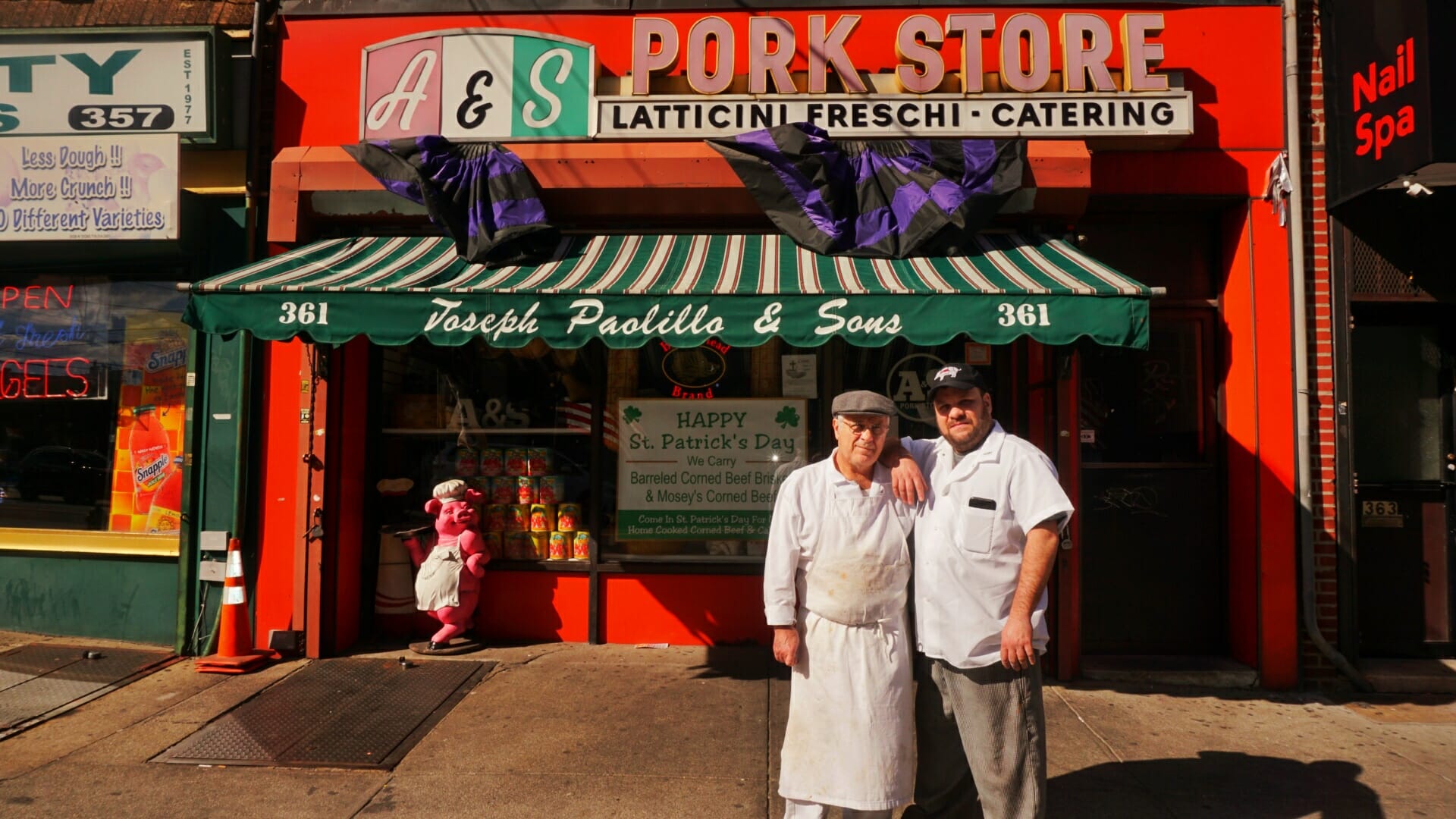 On a nondescript, two way street just off the B1 bus stop on Avenue X stands a bagel shop, nail salon, and, tucked just in between, the billowing, green, white and red Italian flag decorating the A&S Pork Store.
The 73-year-old Italian Salumeria, or "pork store", is run by Joseph Paolillo, aka Joe Sr, and his son, Joe Pork. For over 40 years, the shop has been in the Paolillo family and has been a neighborhood staple in Gravesend, Brooklyn. The two are so renowned for their food and personalities, that they've been approached and filmed by not one, but TWO reality shows about their shop.
From L to R: Matt, Joe Sr, Joe Pork

Longterm Customer
I'll be honest with you. The story of this article originally started about food. Good ol' cheese-y, sauce-y Italian food that was of that food porn status that would have gotten a couple of hundred likes on the 'gram. For the most part, the article is still heavily involved with the food (ask for the Julio sandwich) but, really, it's the story of how one of the few remaining neighborhood father and son shops are still surviving in NYC today.
The spot was recommended to me by a former Gravesend local, Francesco Soru, who had grown up a block away and was hosting me for a neighborhood tour.
"I grew up around the corner, and every day I'd come here after school with my mother. I remember my mother giving me $5 and getting a sandwich. They knew my whole family".
When we arrive, Francesco tells me that it's been about 3 years since he's been here. Inside, a glass counter filled with homemade sausages, braciole and pork chops takes up the length of the shop with a mounted boar's head along another wall. Behind the counter are four or five counter staff working in a frenzy picking up phones, weighing cheeses and walking in and out of the kitchen with heaps of fresh cannolis and cookies, riceballs and sandwiches.
It's a seamless honeybee farm, understatedly impressive, only broken up when we walk in the door with a big, "GET OUTTA TOWN. IS THAT YOU FRANCESCO?!"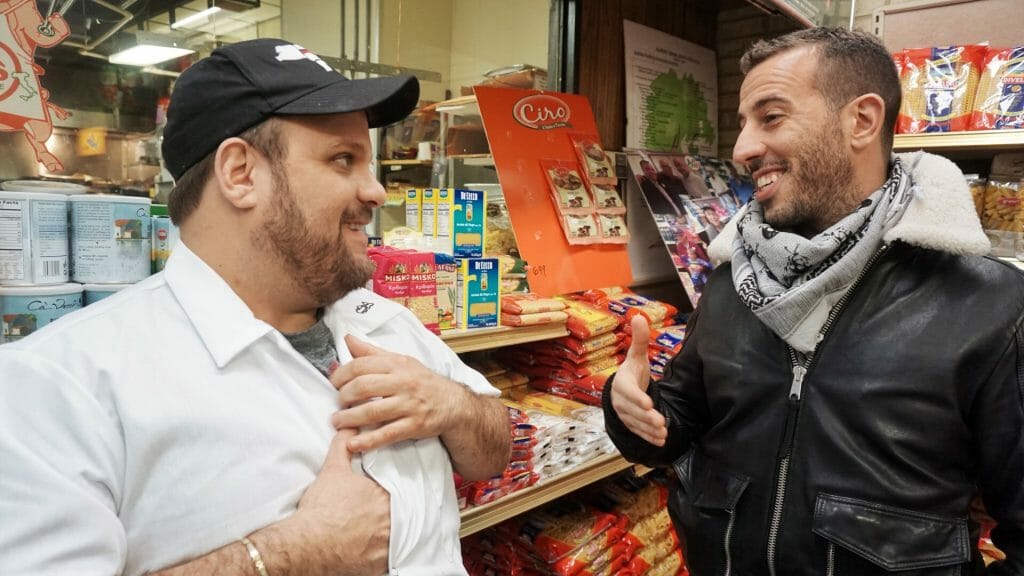 Joe Pork walks over, gives Francesco a giant bear hug and calls his father over. Before I know it, I'm witnessing the whole shop greet Francesco, including a woman who was in line before us that, as it turns out, was also a family friend of Francesco's mother. The whole scene feels straight out of a movie and, suddenly, the whole shop is reminiscing together.
In fact, throughout the entire three hours that we were there, I don't think, at any point, there was a customer that hadn't been greeted by name. As for me, within 15 minutes, I was in the corner with Francesco taking shots of homemade Limoncello with Joe Sr.
"I got this shop without spending a penny… I came to the United States when I was 13 years old and I worked at the shop. I made a lot of sales and when they decided to open a second shop they asked me to be a partner in it. I have been here for over 50 years".
To this day, Joe Sr makes his way from Staten Island at 5 AM to open the shop. In the back, dozens of homemade sausages air dry just like the way Joe Sr learned over five decades ago. The shop, Francesco tells me, "looks exactly the way it did when I was a kid".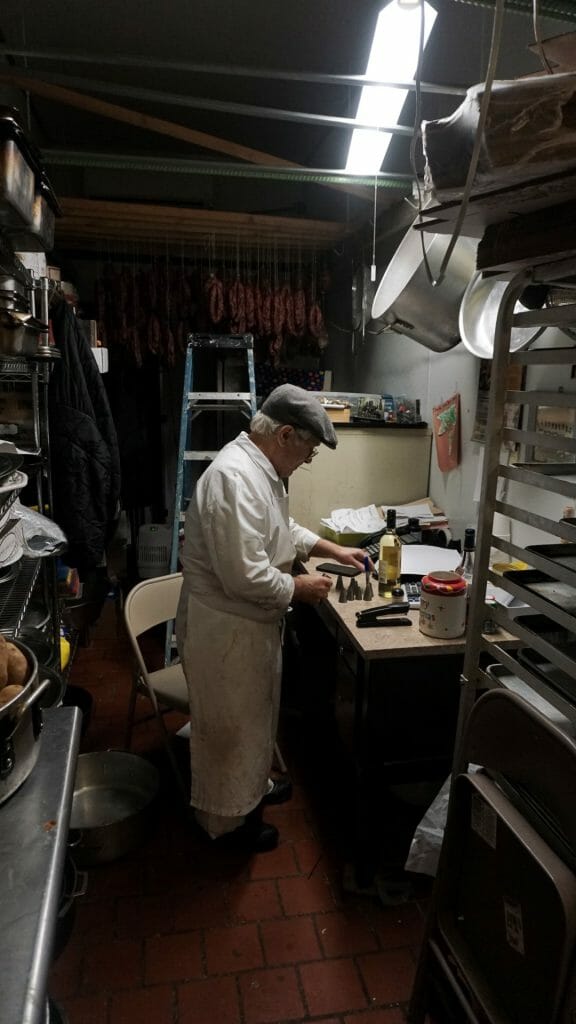 Throughout the day, Joe Sr and Joe Pork share stories of their shop in the neighborhood. From watching kids grow from toddlers to adults (like Francesco who has been coming here for over 30 years), Joe Sr and Joe Pork have turned their shop into a neighborhood haven in Gravesend. Small businesses, like A&S Fine Foods, are essential in not only making a neighborhood, but raising one too. In "The Death and Life of Great American Cities", urban planner Jane Jacobs writes,
"The trust of a city street is formed over time from many, many little public sidewalk contacts. It grows out of people stopping by at the bar for a beer, getting advice from the grocer and giving advice to the newsstand man… The sum of such casual, public contact at a local level…is a feeling for the public identity of people, a web of public respect and trust, and a resource in time of personal or neighborhood need"
The Death and Life of Great American Cities, Jane Jacobs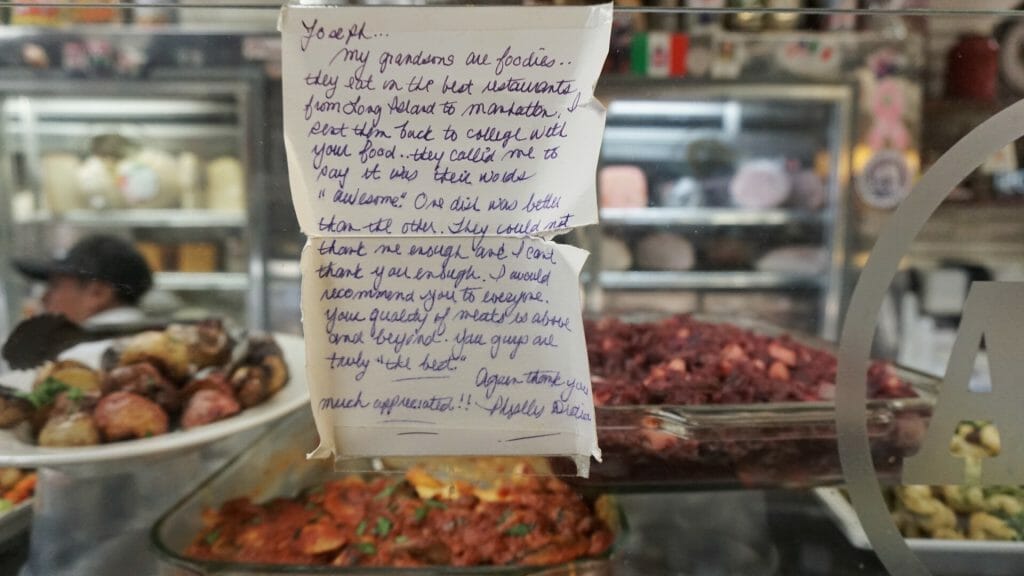 Together, Joe Sr and Joe Pork are a father and son duo that truly make up the neighborhood. When I ask for an example of what their favorite memory of having the shop is, Francesco chimes in.
Francesco: "Joe, tell her how many people you had at your wedding"
Joe Pork: "700"
Francesco: On the dot?
Joe Pork: "711, and my wife invited 60 people. What can I say? We have a big family, not only from Italy but from the neighborhood. All these customers, they're family."
Italian Bites
I've been invited to try a handful of their signature dishes including the infamous "JULIO" sandwich, an Italian medley on perfectly crisped bread with fresh homemade mozzarella, roasted peppers, arugula, parmesan, prosciutto, and salami. I also tired "The Sicilian Teardrop", a deep fried risotto ball cooked to perfection and simply oozing' with cheese.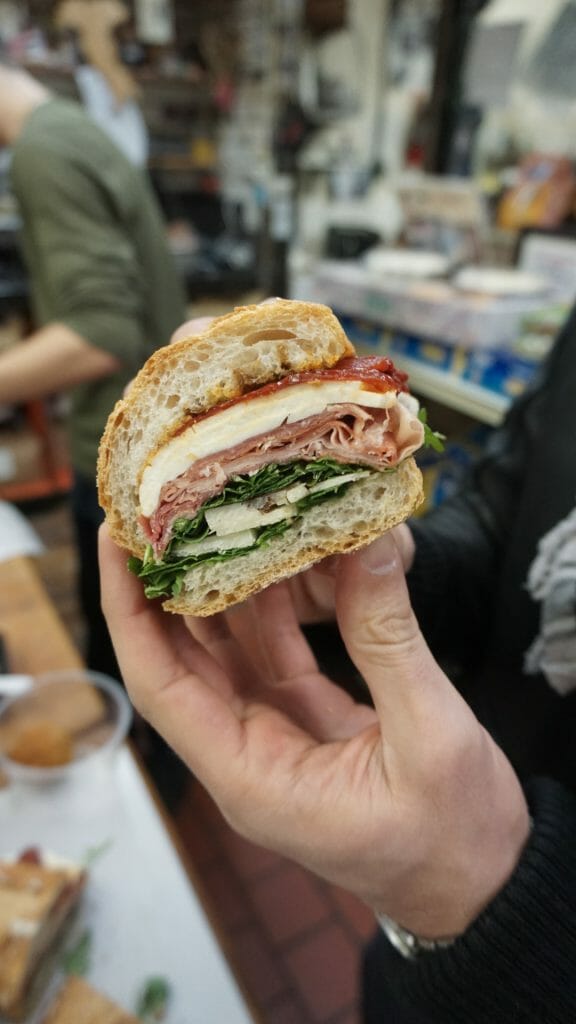 Four years ago, Joe Pork bought the bagel shop next door. He takes us on a tour through the back in a Goodfella's "Copacabana" scene fashion; straight through the kitchen, past the antique wooden refrigerator that stores the dough, "this is the real secret to NYC bagels", and into his newest venture, Bake City.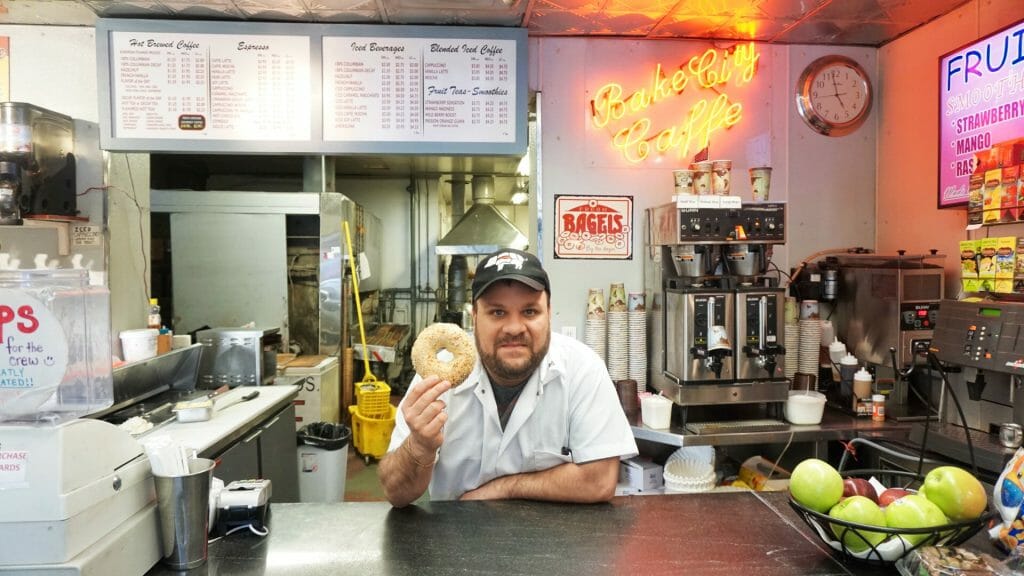 In a time of the disappearing neighborhood shop, it seems like Joe Sr and Joe Pork have figured out the secret sauce to keeping a thriving business. While Gravesend, a historically Italian neighborhood, has changed in recent years, with an influx of Jewish, Russian and Chinese tenants, A&S has managed to keep the community alive.
The secret sauce, I expect, is none other than Joe Sr and Joe Pork themselves.