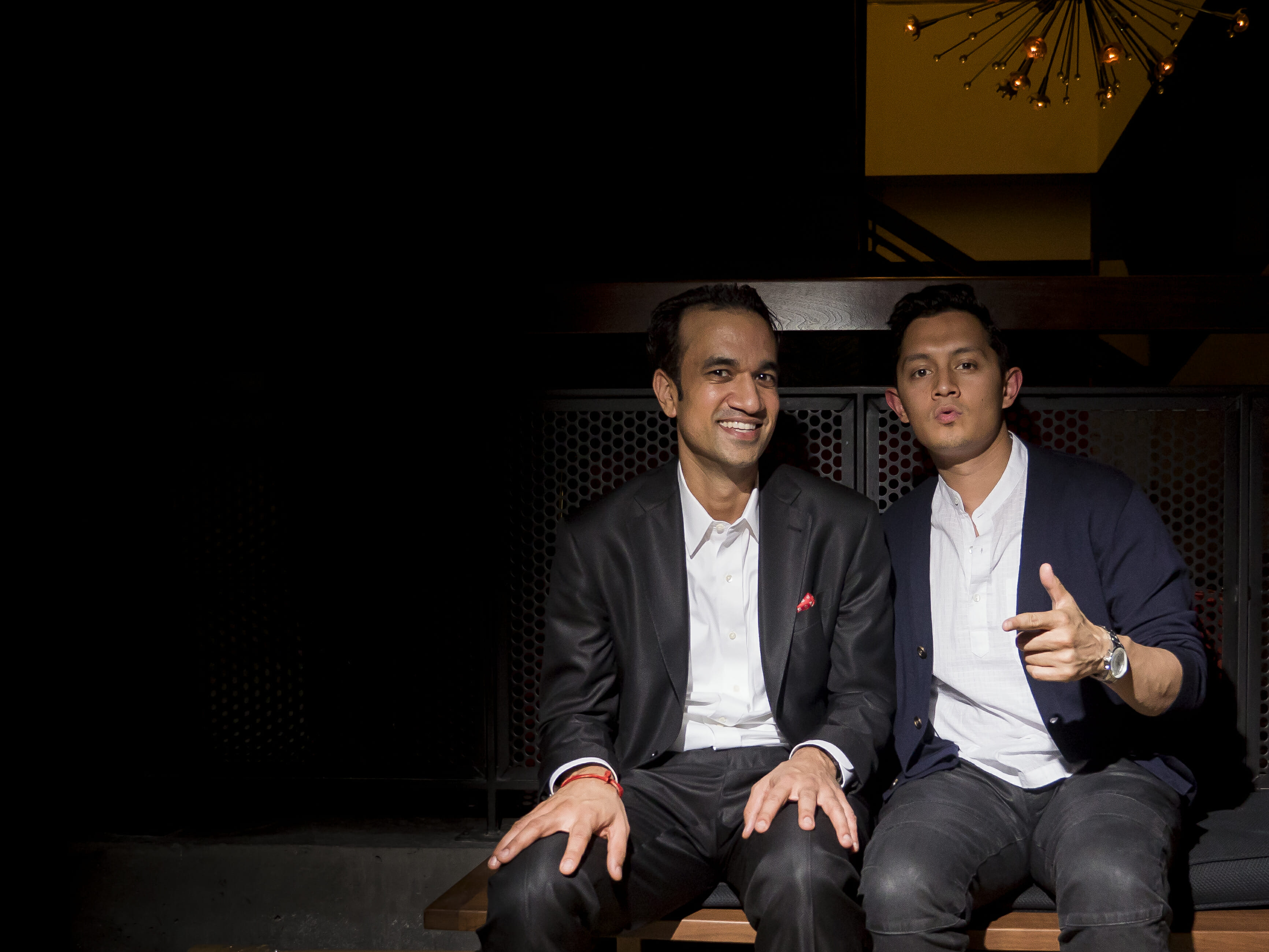 In New York comedy is all around us. Take a walk through the West Village and you'll find street hawkers, sandwich boards and bars all hawking one thing, stand up. With so many options, how are we ever to distinguish the good from the bad? We're either left paying upwards of $80 a night on two drink minimums or left with some sub-par comedy in a dingy basement bar. That's why comedians Sachin Shaan and Anish Mitra set out to create The Surprise Show: NYC's best live comedy experience.
Interesting. What's The Surprise Show?
The Surprise Show is a comedy show for the no-frills New Yorker. Just great comedians, no two-drink specials, in a place you can take a date and still impress them. We call it a surprise, cause you'll never know who to expect. We've had Jim Gaffigan, Judah Friedlander, Hasan Minhaj, Todd Barry and TJ Miller drop in.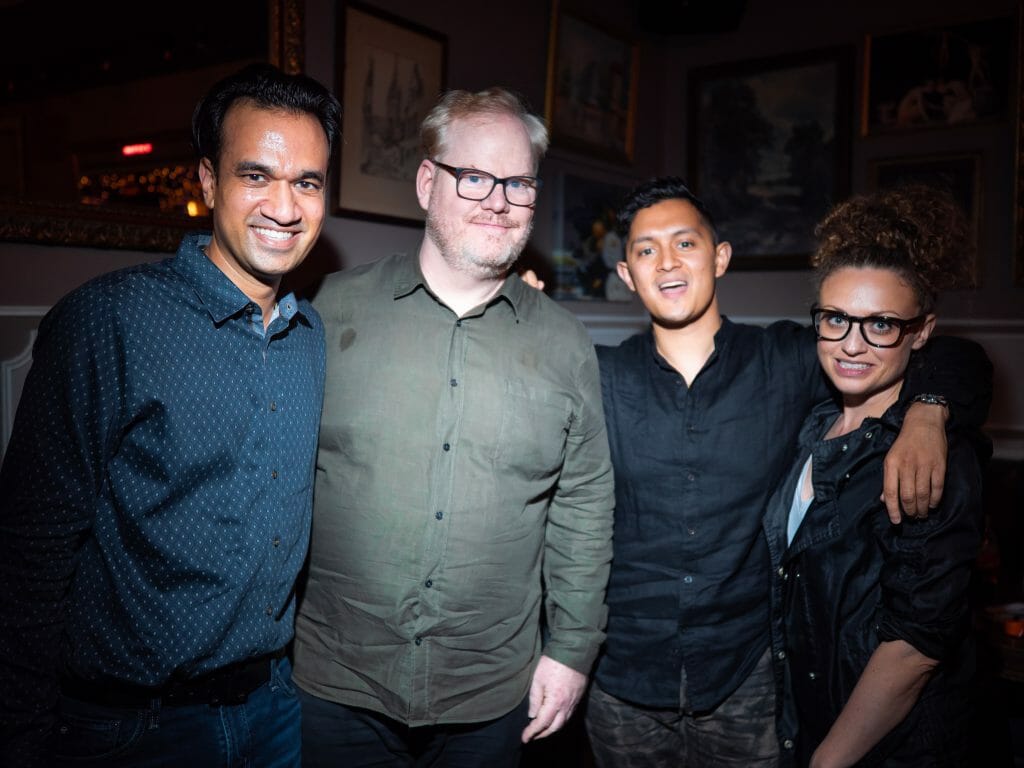 Who are Sachin Shaan and Anish Mitra?
Close your eyes and picture Batman and Bruce Wayne. Then picture two brown guys who are slightly worse looking than Christian Bale, significantly less rich and not famous (yet). That's Sachin and Anish. They channel Bruce Wayne inside corporations (where they work) but evoke Batman (when they drop punchlines instead of punches). Both of their parents immigrated from India and they've followed the traditional (South) Asian model minority game plan, that is, until becoming comedians.
Got it. So, how'd you guys even get started in comedy?
Anish: In high school and college, I did a lot of debate, public speaking, and writing. I had this weird Indian guilt about not being in love with math or science and cheating on them with English and history. Fast forward a few years, I was banging my head against a keyboard on Wall Street and wondering how all of my humanity had been vacuumed out of my body and said: "Enough is enough". I saw Sachin do a comedy show at The Stand (he killed) and realized comedy was something that was actually accessible and I told myself I needed to try before I died. Haven't looked back since.
Over the last few years, I've been booked to headline at the North American Bengali Conference (my family is from Kolkata and we're Bengalis), and this forced me to really learn more about the Indian cultural contributions we've made in cinema, poetry and the arts. I ultimately learned that I should let go of these bullshit stereotypes about all of us having to lust over equations and realized I was actually being true to my identity by pursuing a career in the arts.
Sachin: I get this question the most. Almost everyone in my life has been pretty shocked since I was the opposite of the class clown: I was the class nerd. I felt like most people laughed AT me, instead of with me. But everything changed since the summer of 2013 when I registered for Rick Crom's "beginner" workshop class at the world-famous Comedy Cellar. If you don't know who Rick Crom is, you should – he's the comedy world's journeyman and he was in last season's "Marvelous Mrs. Maisel." I've also trained under Dustin Chafin who has trained many comics, perhaps most notably Pete Holmes (start of HBO's "Crashing"). So, yeah – I have a couple of comedy trainers: instead of making me do push-ups, they make me write better jokes.
So why bother creating a show? Why not continue to hustle in the clubs and streets?
The comedy scene in New York City is gritty and it's near impossible to get quality stage time when you start out. To perform at a proper club, you normally have to do a "bringer" show, where a booker lets you do maybe six minutes of jokes after you bring, say, 10 people out on a Monday night at 6 p.m. (for $20 bucks each + drink minimums). We realized pretty quickly this wasn't sustainable, especially when the shows themselves weren't high quality — our friends deserved better if they were going to drop $60 on a Monday.
So we sidestepped this by creating our own show. The entire show is curated from start-to-finish and every performer is handpicked. We do a mix of up-and-coming talent, very established comedians you would see at the Comedy Cellar (NYC's #1 comedy club), and A-list comedians like Jim Gaffigan, TJ Miller, Hasan Minhaj, Todd Barry, and Judah Friedlander – all of whom have dropped into our show several times.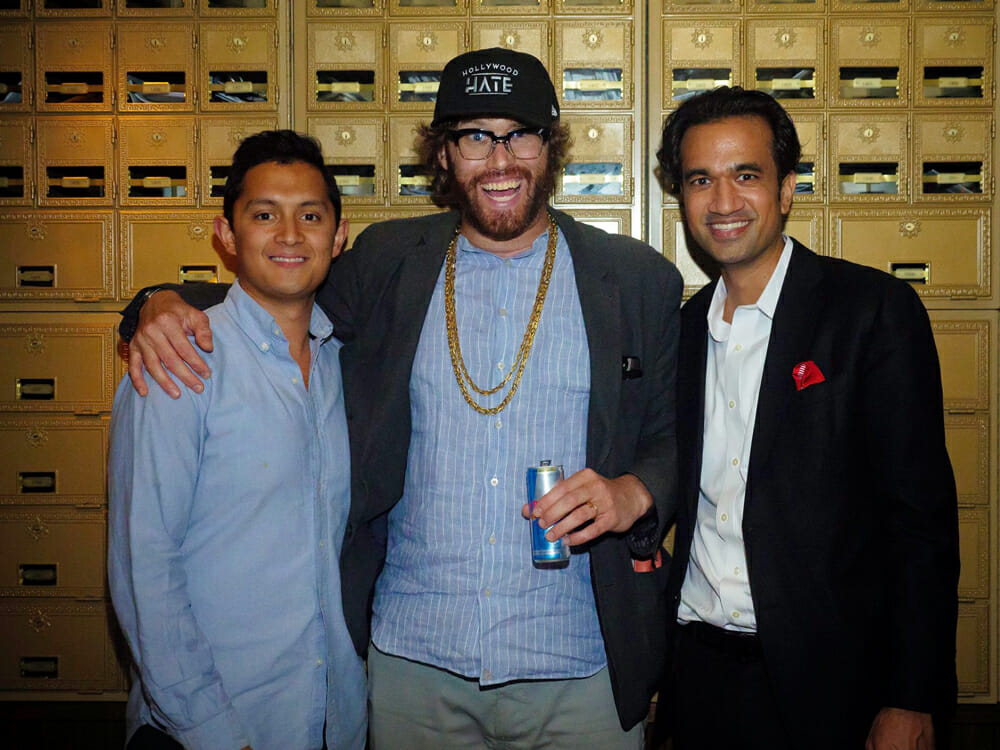 We always end up with a lineup that is both gender and ethnically diverse. PLUS, we love variety acts and always feature a non-comedy act (or two). We've had professional singers/musicians, mentalists and magicians, and even a juggler!
We don't like the 2-drink minimums and we try our hardest to avoid those types of venues. And the show isn't expensive – we charge the bare minimum of $10 or $20 to cover our production costs and pay our talent. On the other hand, we've sold out every single The Surprise Show over the last 18 months so don't wait!
What's it like being producers? Is it really that hard to do this?
Sachin: It might look easy, but it's not. We're wearing multiple hats – remember we're also performing in the show as either the host/MC or doing a set (it would be kind of lame if we weren't in our OWN show). I'm so glad I brought Anish on to help me because the show was just getting bigger and bigger. Anish literally went from being an enthusiastic audience member to starting stand-up and then he became both my co-producer and a super funny comic.
Anish: What he said. It's like planning a wedding, except it happens every month. Ok, maybe not a wedding but like doing a rehearsal dinner on a monthly basis.
What's it like a week before, the day before, a day of?
Sachin and Anish: We literally do everything for the production – ticketing, the sales/marketing/promotions, booking the talent, managing the talent, and way too many day-of things (our favorite is when our friends like to wait an hour before the show to ask us for tickets to a sold out show). We're lucky to have a small team that helps us with the fancy fliers, taping the show, and the great photos so we can feel cool on the 'gram.
What's one of your favorite "war stories"?
Anish: In January 2017, we had Jim Gaffigan drop by our Surprise Show, right after Judah Friedlander had already dropped by. After Jim finishes his set, I'm bringing him towards the exit, I look up and I lock eyes with human Bambi. "Hi, I'm Hasan," he says. As in Hasan Minhaj. I was desperately wishing I had actually gone to medical school because I knew we'd have some cases of cardiac arrest in the audience after putting him on stage (spoiler: we didn't).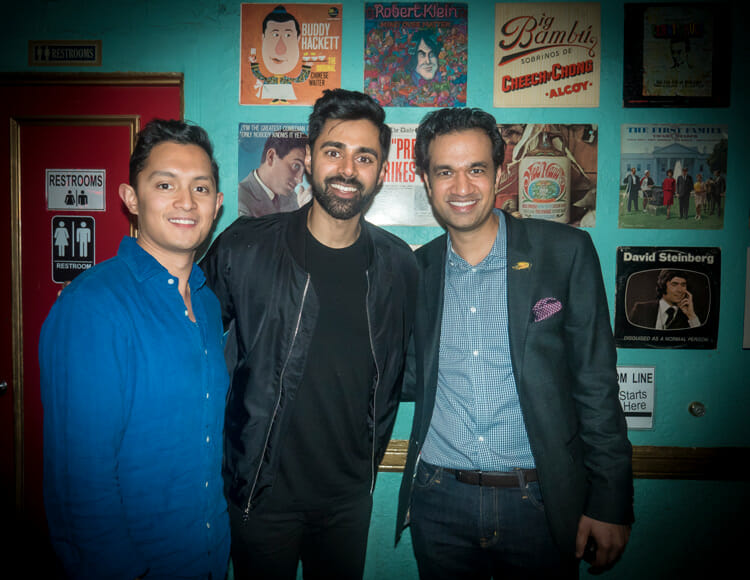 Sachin: Last month, Jim Gaffigan dropped in and it was our first time hosting the production at Hotel Chantelle. He commented about how cool the room was, and that people want to experience comedy in a trendy place, not a dark basement like most comedy clubs. Jim is my favorite comedian on the planet so I still can't believe that he's dropped in so many times and supported us over the years. I heart you, Jim, even if your 5 children sometimes may or may not.
Ok. Let's say a friend's in town, is craving comedy and missed the Surprise Show. Where do you send them to get their fix?
Sachin: I'm sounding like a broken record at this point, but the Comedy Cellar is the "cathedral" of comedy in NYC and there's no better place. I also really like Gotham Comedy Club in Chelsea. But don't be afraid to try the shows that are more off-the-beaten-path (that's us!) and super fun. For example, comedian Sheba Mason runs two weekly shows and they're both always packed. The Grisly Pear in the West Village, which was featured on HBO's "Crashing," has really stepped up its game and runs shows every night.
Anish: My boy Eugene Chang runs a free, weekly show at Oppa Bar (as of this writing) in the West Village. The vibe is cool because it's in a karaoke lounge and it's always packed (the show was featured in the New York Comedy Festival this past year). If you want to find cool and affordable shows outside of Manhattan, check Eventbrite vs. Google. There are tons of shows for free or basically free ($5) with comics on the come up you won't want to miss (along with folks that have credits, etc.)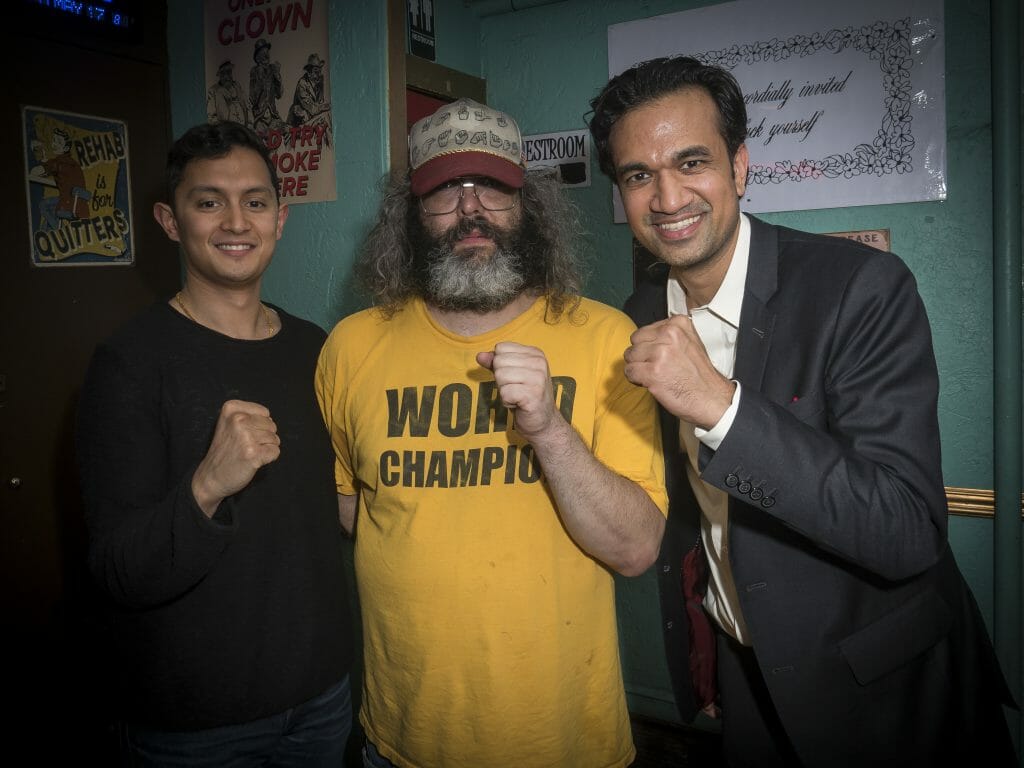 Does it help you get the ladies?
Anish: Honestly, unless you're getting them anyway, no. Comedy is like fitness. If you're hitting the gym non-stop and your arms are screaming out of your shirt and you look like you bleed Muscle Milk, chances are, you'll mostly get attention from other dudes telling you things like "hey bro, I hit the gym too, wanna lift together?". I don't do it to find love, I do it because I love it.
Sachin: No. This is a total myth. Excuse me, but I think I need to cry now.
And where can people follow your journey?
Sachin: Instagram is the best for me – I'm @sachinshaan
Anish: @mitranyc on Instagram. DM me your email, and we'll put you on our list. Also on Facebook as Anish K. Mitra.