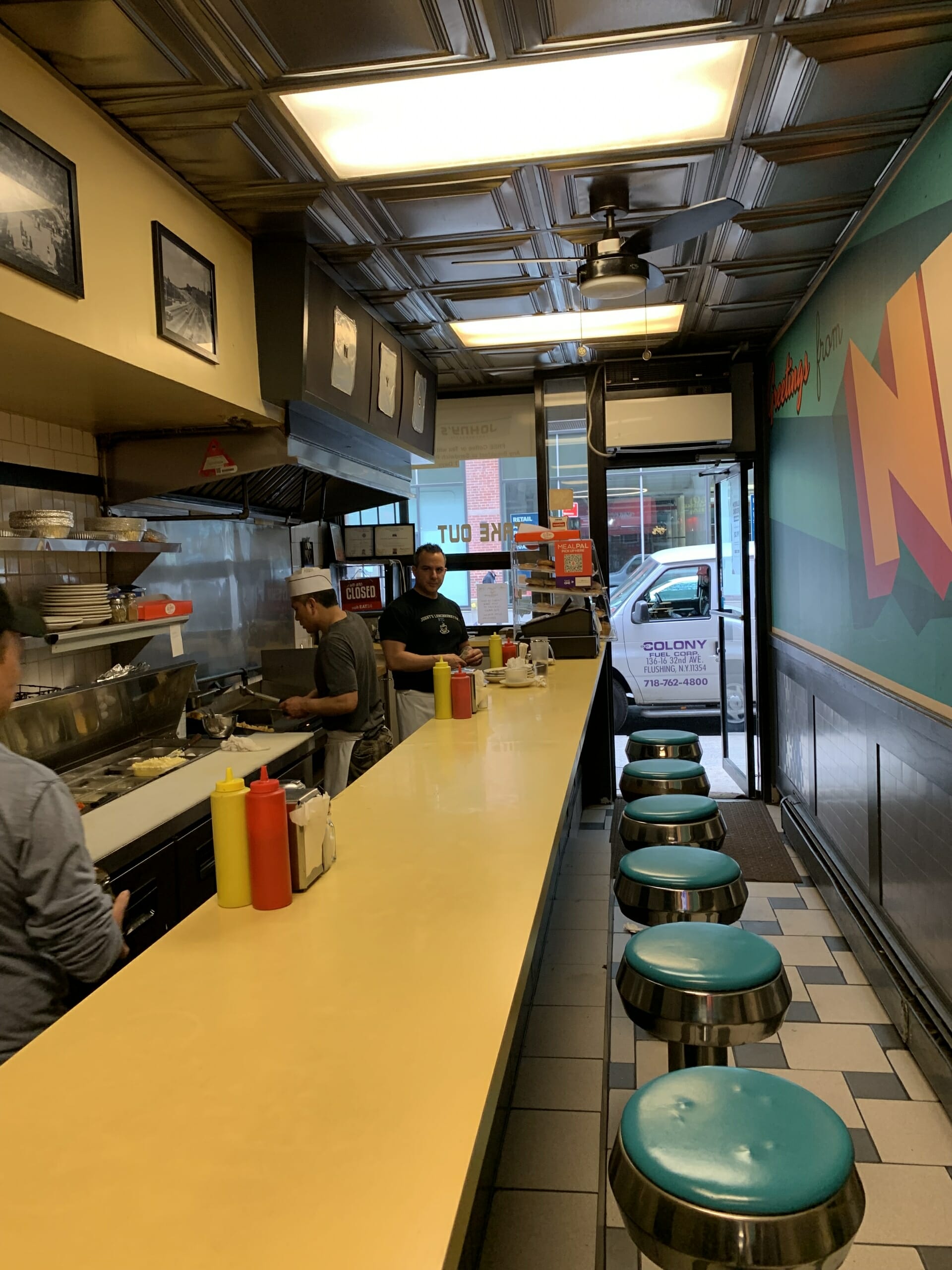 Editor's Note: Since the publication of this article, we regret to inform you of the passing of Larry Pilatos on December 3, 2020. In addition, Johny's Luncheonette has lost over 70% of their business due to Covid and is now struggling to pay rent. Please donate HERE to their Gofundme. We are also looking for volunteers who can help with photography and marketing to help get Johny's up and running long term. Email us if you'd like to get involved at hello@ciaooomag.com – December 10, 2020
In the middle of the Flatiron district, a corporate block filled with restaurants offering "elevated" this and "high-end" that, stands a local, no-frills diner that you might miss if you're an average New Yorker walking down the street. For those in-the-know, Johny's Luncheonette is different from other overpriced, Manhattan diners. 
John Pilatos runs Johny's Luncheonette, which he opened with his father, Larry Pilatos, in 1995. While similar diners failed to make ends meet heading into the new millennia, Pilatos kept the 10-seat diner open with an updated menu and determination to keep NYC luncheonette-style dining alive.
The Pilatos family was making their way in the restaurant business long before Johny's opened its doors. John's father moved to the United States from Greece in 1964 before opening G & P Luncheonette on 25th Street, between Eighth and Ninth Avenues. Eventually, G & P permanently shut its doors when business slowed and landlords raised the rent. In a 1995 New York Times article, Larry Pilatos expressed his disgust for his landlord's lack of leniency for his 28-year-old restaurant, "If I was a strong guy, I would've pushed him down and stomped his face," said Larry.
After being pushed out, Larry went to work for his son, John, just up the block at Johny's Pizza before the two decided to open a new place – Johny's Luncheonette.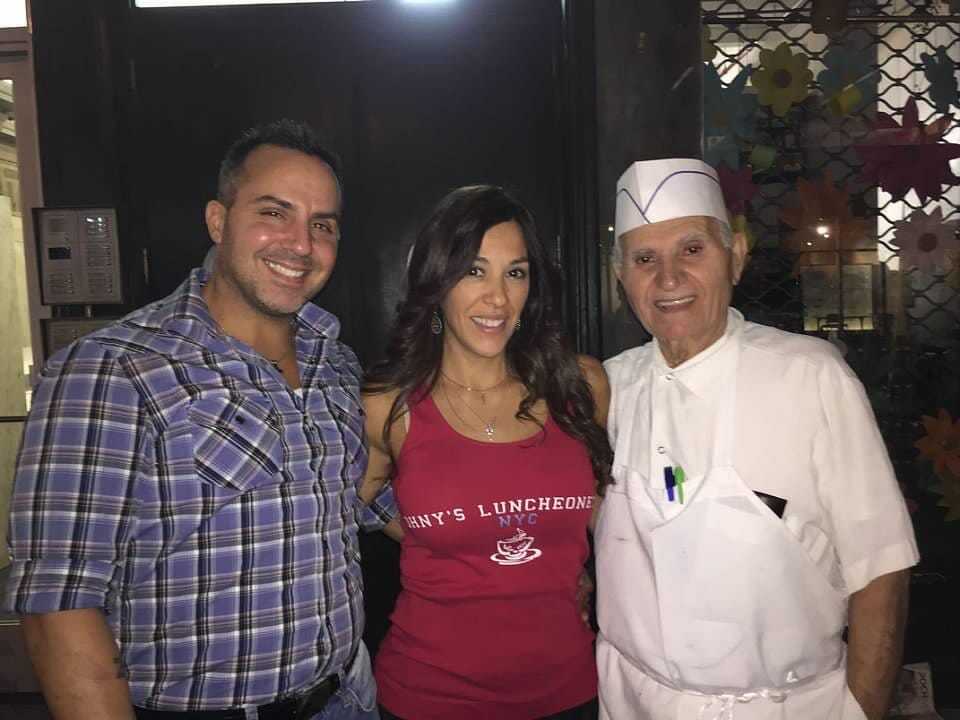 While Johny's offers the classic diner fare – bacon and eggs, French toast, burgers, and deli sandwiches – the diner became known for their cholesterol-wrenching sandwiches like the 'Curious George' (comprised of three eggs, bacon, ham, French fries, and cheese on a hero). A sandwich sent from the god of hangover cures.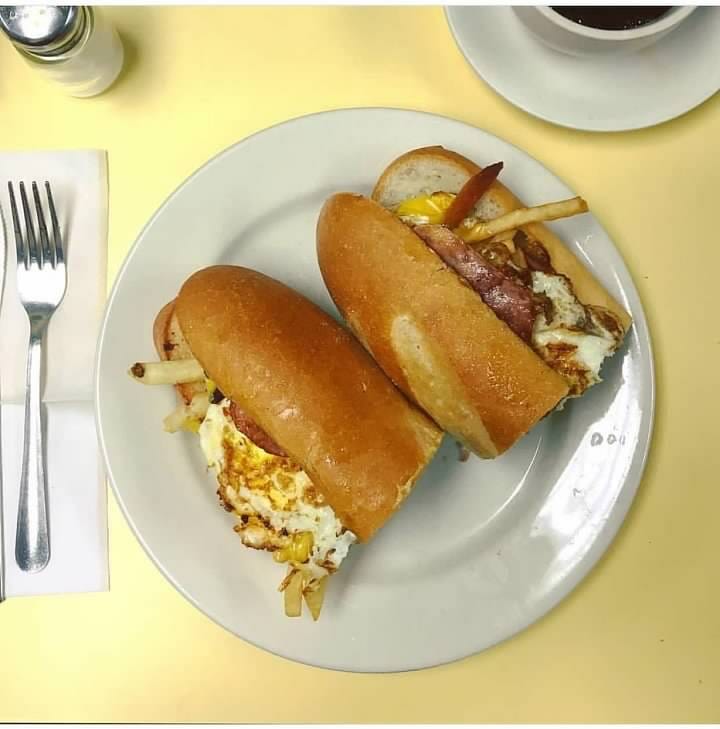 "Most [sandwiches] are named after my children," said Pilatos about his unique sandwich names. "One's named after me – the 'Sloppy Johny.' 'Dynamic Dez' named after my wife. Customers are on there too, people who've eaten there throughout the years every day. I tell them, 'One day I'm gonna name a sandwich after you,' and they say, 'Oh sure.' And then I show them the menu."
As for John Pilatos himself, he certainly takes after his father and is not afraid to tell customers when they're out of line.
"Your review is underwhelming," said John in response to some false claims made on Yelp. "You are rude and seem very hard to please. BTW thanks for the picture. Your breakfast looks great. Have a nice day!!"
You certainly don't want to be at odds with him.
Despite Pilato's rough exterior, he spoke openly during our phone call, unafraid to discuss the current privations all restaurant workers face. Johny's Luncheonette survived through many other misfortunes – 9/11, Hurricane Sandy, and the recession. Despite the many challenges, Pilatos holds onto his bright outlook for the future. He describes himself as "New York tough."
"This is pure insanity," said John, "but I'm staying positive and keeping busy! I have an open mind, I am tough and like Cuomo said, I am New York tough."
"This is pure insanity," said John, "but I'm staying positive and keeping busy! I have an open mind, I am tough and like Cuomo said, I am New York tough."
We bonded over our restaurant experience. I likened Johny's Luncheonette to the coffee shop I worked at throughout college. People flow in and out, but there are always a few customers who show their faces regularly. It was those people – the ones who leave you an extra tip, who have a regular order, who ask about your life, who smile and say thank you – that make the long hours worth it.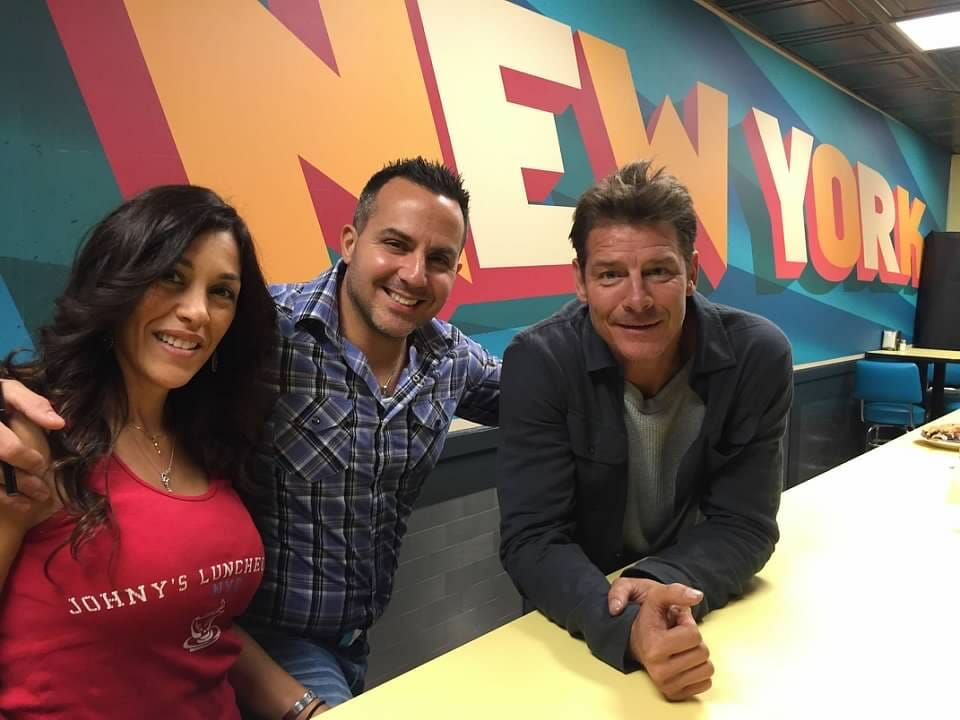 Johny's is set up to make anyone walking through the door feel like a part of the everyday crew. Bar seating opens right into the kitchen so customers can watch kitchen staff flip their pancakes and toast their sandwiches. Classic NYC – No frills. No funny business. Just the good stuff. Pilatos says money has never been the object when it came to Johny's.
"It's a family restaurant – a lot of love towards food and our customers," said John. "Without love, you could be the best cook in the world and run the best business in the world, but if you don't love it, it won't succeed. I never looked at it from a monetary standpoint. I wasn't looking at it like I was gonna make a killing there. I wanna make a living, make people happy and make it affordable."
Losing restaurants like Johny's would mean losing the heart of NYC.
On an Instagram post of the empty restaurant, John wrote the caption, "As so many struggle to make ends meet, so many suffering from the effects and after-effects of this pandemic, I just want to say thank you for not giving up."
John Pilatos is someone who's lived and worked in New York City for over 25 years. He's pushed through other hardships, and although the COVID-19 pandemic is unprecedented, Pilatos seems sure Johny's will prevail. Despite the seriousness of our conversation, he gave me hope for the restaurant industry's future.
"I'm in a group chat with hundreds of restaurants – everyone's expressing their anguish…Nobody can pay rent.
Before the COVID-19 outbreak, Johny's had lines out the door during lunch hours. People from all over the country came in to get their pancakes and $1.50 coffee. The most common complaint on Yelp was the wait due to lack of seating. Now, Johny's doors remain closed until dining resumes.
Most NYC restaurants, along with restaurants across the country, struggled to make ends meet and had to take drastic measures to keep their doors open (at least for pick-up and delivery). Restaurants continue to close different locations, furlough and lay off staff, ask for customer donations, and apply for PPP loans.
"I'm in a group chat with hundreds of restaurants – everyone's expressing their anguish. Everyone's communicating," said Pilatos. "Nobody can pay rent, just taking it day by day. Restaurateurs basically pay the highest amount of rent because we're the only ones who can pay that much."
On top of considering the short-term effects of re-opening, restaurant owners are forced to debate the long-term effects, such as a possible second COVID wave come winter. Opening at only a portion of their full capacity offers future challenges.
NYC restaurants continue to lose billions of dollars as COVID-19 keeps them from fully reopening. Restaurant owners like John Pilatos, along with all the other restaurants and small businesses in the city, are what keeps the city moving (and most importantly, keeps them fed). Pilatos represents one of many NYC restaurant owners whose businesses may never fully recover from the pandemic. Before I hung up the phone, Pilatos made it clear that he is prepared for battle and hopeful for what the future holds. When people ask me why I moved to NYC, the main answer is the drive. Everyone in the city has at least two jobs and is working their butts off to meet their goals. But in times like these, everyone is just trying to make ends meet. Speaking with him offered the taste of NYC that I miss – the people who work hard every day to make the city what it is – a city that will fight like hell just to get back to work.
How You Can Support
Follow Johny's on Instagram: @johnysluncheonette
Follow Johny's on Twitter: @sloppyjohny
Johny's Luncheonette Facebook
Read More