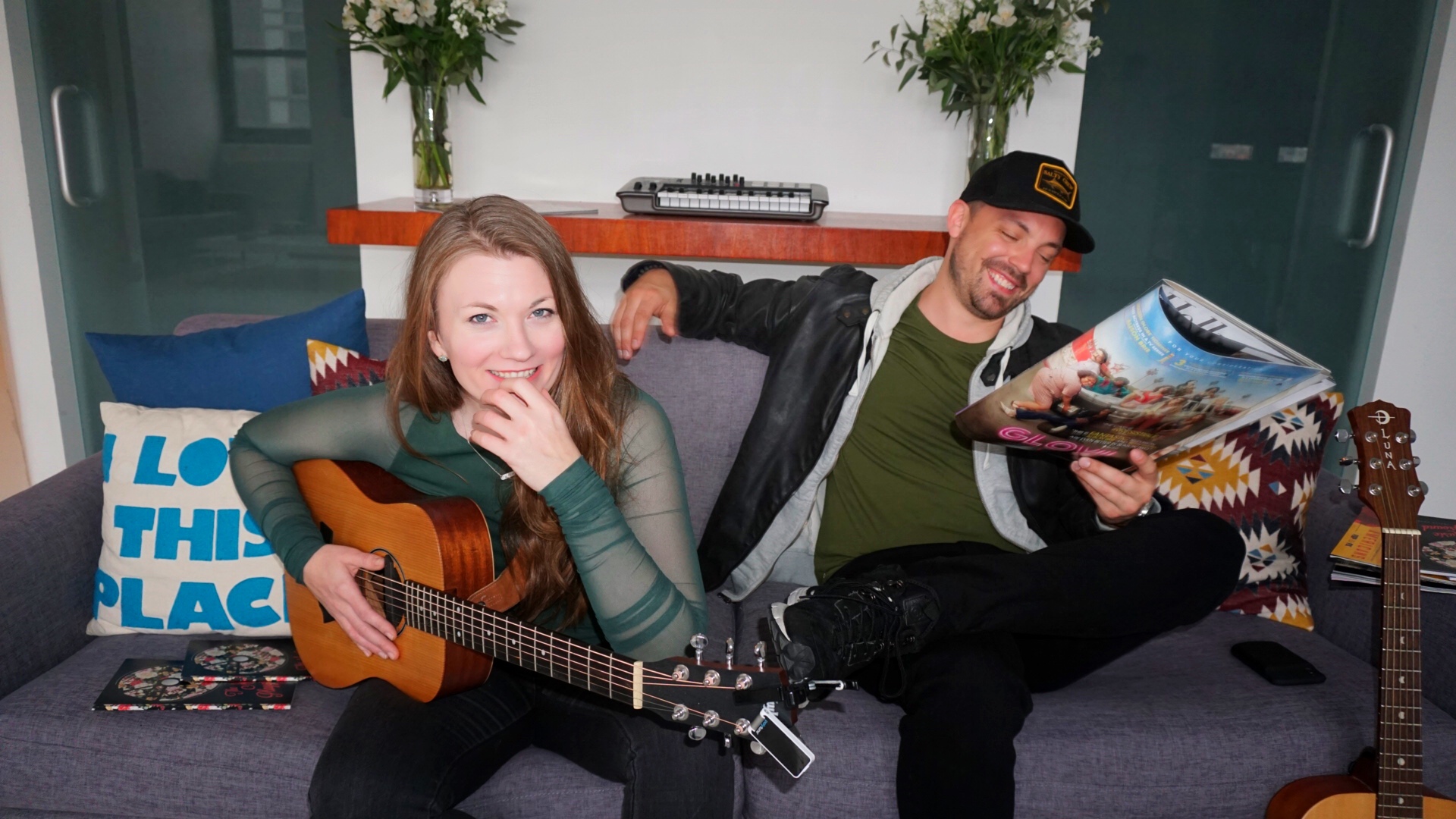 A conversation with the founders of THEMIC, New York's Hottest New FREE Music and Arts Showcase
WORDS / IMAGES BY :CHAU MUI
In what I consider one of my most memorable Saturday afternoons of 2019, Kathryn Henderson is singing "Kiss me" by Sixpence None the Richer to me, while her co-founder, Andrew Stadelberger is twerking to the beat of the acoustic guitar in the background.
At first glance, the two look like an indie pop duo, about to pull at your heartstrings with some folksy twang and love laced lyrics about heartbreak and reunion. In reality though? Andrew and Kathryn are the heartwarming best friends and partners behind THE MIC, a monthly curated music, comedy and art showcase in NYC.

Hanging with these two all day on a Saturday afternoon has been an absolute delight. While I originally came in with the intention of a quick interview and taking a few photos, I find myself sitting on the floor, Indian style, being treated to my own personal concert of 90's pop ballads and jams. The energy between Kathryn and Andrew is electric and all the things that make someone like me who's never thought of performing, get up on stage.
In many ways, that is the whole ethos of THEMIC. What started as simply a respite for the two to maximize on their love for music (despite having day jobs in the advertising industry), slowly turned into a monthly get together for other musically inclined people to get up and perform.
Today, THE MIC is a massive monthly gathering with musicians, both professional and amateur traveling from all over the world to come perform. One time, a guy from Guyana came and played a genre known as "Creole Rock". A little Google search proves that yes, Creole Rock is everything as awesome as you would expect. Another time, a man drove over all the way from Cleveland to perform. Sitar players, traditional piano players from Wales, stand ups and even magicians have come to perform.
"Our degree of what separates us is so small, community is the best way to show us how to come together"
"We want people to get up on stage and not be scared because we're all there to support one another""
Since its launch last year, over 80 performers have crossed the MIC's stage - which has just moved to THE BITTER END. The bar has been known as a launching pad for up and coming musicians, and anyone who's anyone, from Stan Getz to Lady Gaga has performed here. Check out this throwback video of Lady Gaga performing at the Bitter End pre- fame.
The Mic, is also ridiculously professional compared to traditional open mic nights. I mean, eons in difference. There's no grab bags of names being pulled out of a hat. It's a curated event with people reaching out in advance to perform.
The event is entirely volunteer run but features a bustling Slack channel, professional video filming setup and green room interviews. Kathryn also hosts a biweekly - jam session at her apartment where professional and amateurs come together to hone their craft. It's a 360 degree approach to "bettering oneself" for the modern day musician and artist. Further down the line is a partnership with established bands and acts to perform as headliners and who knows, maybe even a talent management company?
The main idea around THE MIC is to create an environment that will help musicians and artists feel motivated to start performing or to continue performing. All the outside resources are meant to encourage and uplift one another.
"All the things that you enjoy help you to be the person you want to be. Sticking to something even when you're not very good at it will help to validate yourself "
- Kathryn Henderson
This month, the MIC is partnering with the Myotonic Dystrophy Foundation to support awareness for the nervous system disorder. The cause is close to Andrew's heart, since the disease affects his brother. Donations will be accepted for the cause and the CEO of the charity will make an appearance at the March 6th event.
You can find check out Kathryn and Andrew's FREE monthly music showcase THE MIC NYC at The Bitter End every month.
If you can't make it then at least stalk them on Instagram.
If you can't do that, then at least sign up for their newsletter where they send updates about open mics in the city, shows by community members, and encourage practice and supporting each other. It's also a list where they announce their monthly event and other community events.